All Flights Cancelled After Protesters Storm HK Airport
14 Aug 2019
Beginning at noon on August 12th, massive groups in black shirts began entering the Hong Kong International Airport for an unlicensed gathering.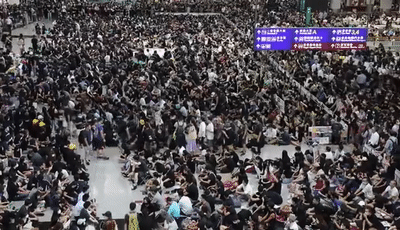 It wasn't long before the lobby at the airport was completely overrun by demonstrators.
Many entrance and exit passages in the airport departure hall were blocked by demonstrators leaving passengers no choice but to wait at the scene. According to the Southern Metropolis Daily, one female passenger who tried to pass asked the demonstrators to let her through and was verbally assaulted by a mob of demonstrators.
By 4 pm, the Hong Kong Airport Authority was forced to launch the Airport Emergency Response Center to announce that all remaining flights on the 12th will be cancelled except for the departing flights those that had completed the registration process and the arrival flights to Hong Kong.
The Hong Kong Airport Authority reminds passengers to check the latest flight status through the airport homepage or other mobile applications before going to the airport to avoid delays.
Source: 因非法集会,香港机场取消今日余下所有航班!
in Health & Fitness, Food & Drinks, Community, People, Education
Check out all the awesome free activities, services & workshops + in the FULL schedule for this Saturday's Health & Wellness Fair! 10am to 4pm at Vista-SK, walking distance from Houhai Subway station in Nanshan.
Great day for the Shekou Community to one again show our kindness and hospitality.
in Health & Fitness, Community, People, Sports
Saturday 9th November's Health & Wellness Fair is packed with FREE Dance & Fitness Classes! Don't miss out on these activities plus all the other fun stuff happening at the Fair!