Don't Miss This Saturday's Party @Terrace (FREE for Teachers)
12 Sep 2019
Join us Saturday September 14th, for ShekouDaily's 5th Annual Summer-End (aka: Welcome Back) party!
Everyone is welcome to come party with some amazing people, enjoy seductive live music, and delicious food & drinks, and have a chance to win some amazing lucky draw prizes!
... best of all, this is FREE for up to 100 Teachers!
(See below for details. Registration required)
Scroll down for complete party details. Early Bird tickets available until 12 noon, Friday September 13th!
What's on the menu?
For you beer lovers...
We will have draft beer, freeflow from 6pm to 9:30pm, courtesy of Vedett!

If beer isn't your thing, Terrace will also be providing a wide range of delicious mixed drinks!
Enjoy your choice of vodka, tequila, rum, whisky, and gin, straight or mixed with your choice of soft drink, from 6pm to 9:30pm.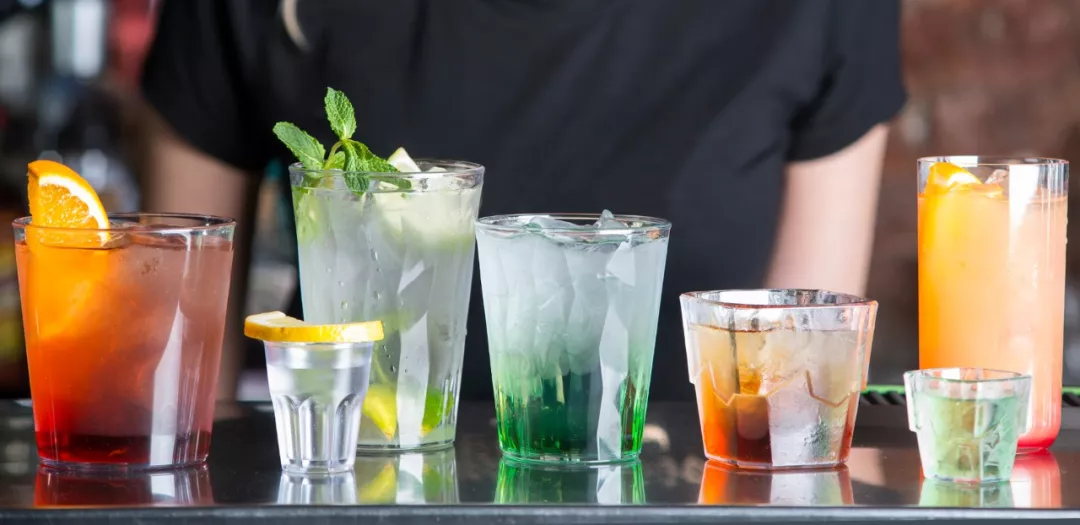 PREFER COCKTAILS?
If you're not into freeflow and would prefer just a few handcrafted exquisite cocktails, choose the cocktail drink option, at no additional charge, and get three cocktails (your choice of Mojito or Long Island Iced Tea) instead.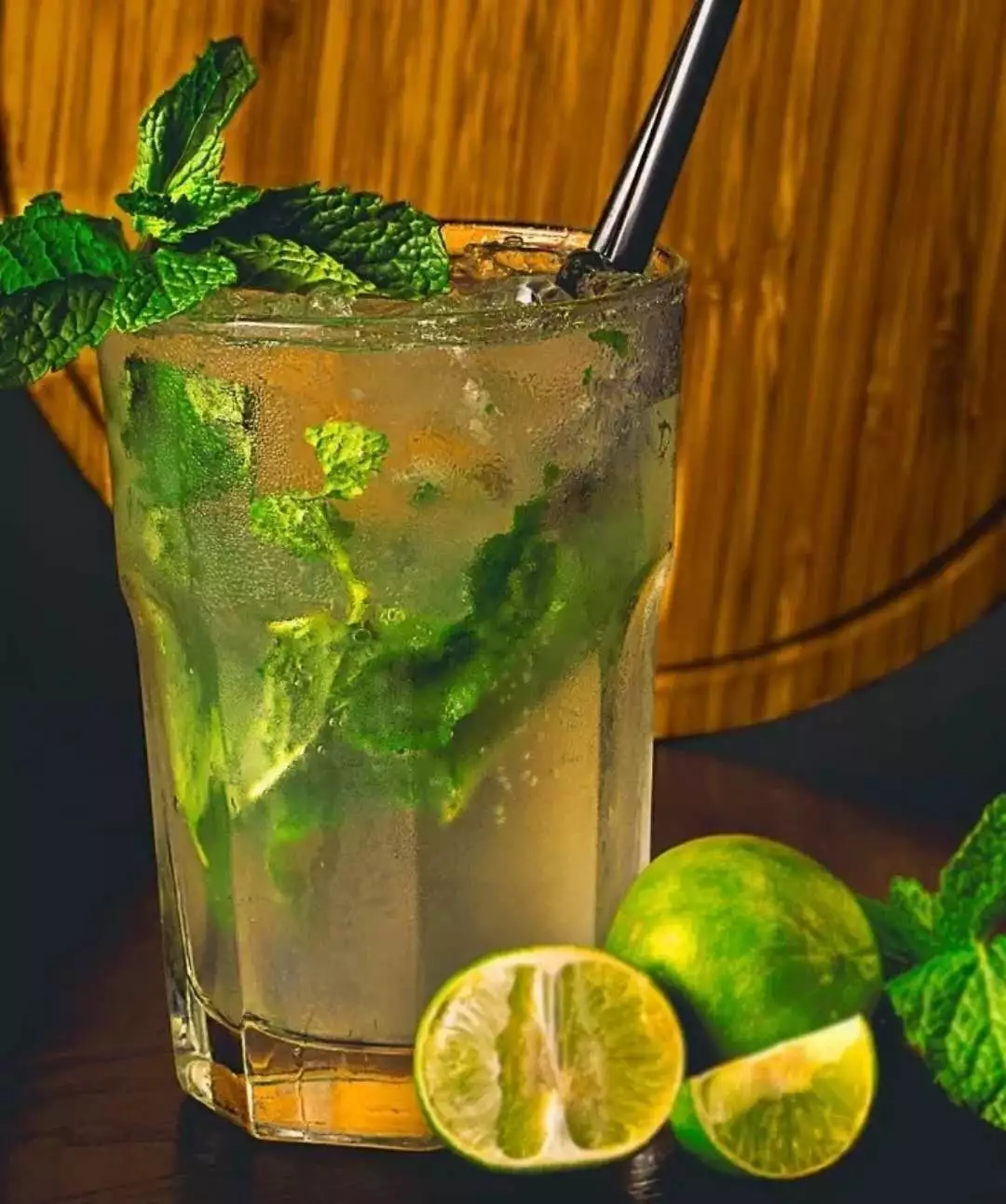 For you foodies out there...
We have an all new selection of Thai food; including Tom Yun gong soup, papaya salad, fresh chicken spring rolls, steamed rice, chicken pad thai noodles, Thai red curry beef, sago with coconut cream, and assorted fruits, from 7-9pm, all courtesy of the Terrace! Food will be served three times to ensure it's always hot and fresh and everyone gets a chance to enjoy it. First at 7 p.m., then at 7:45 p.m. and again at 8:30 p.m.
Live Music by TAS
To please our auditory senses, we'll also be enjoying LIVE MUSIC by the deliciously rhythmic, award-winning members of TAS, the Terrace House band.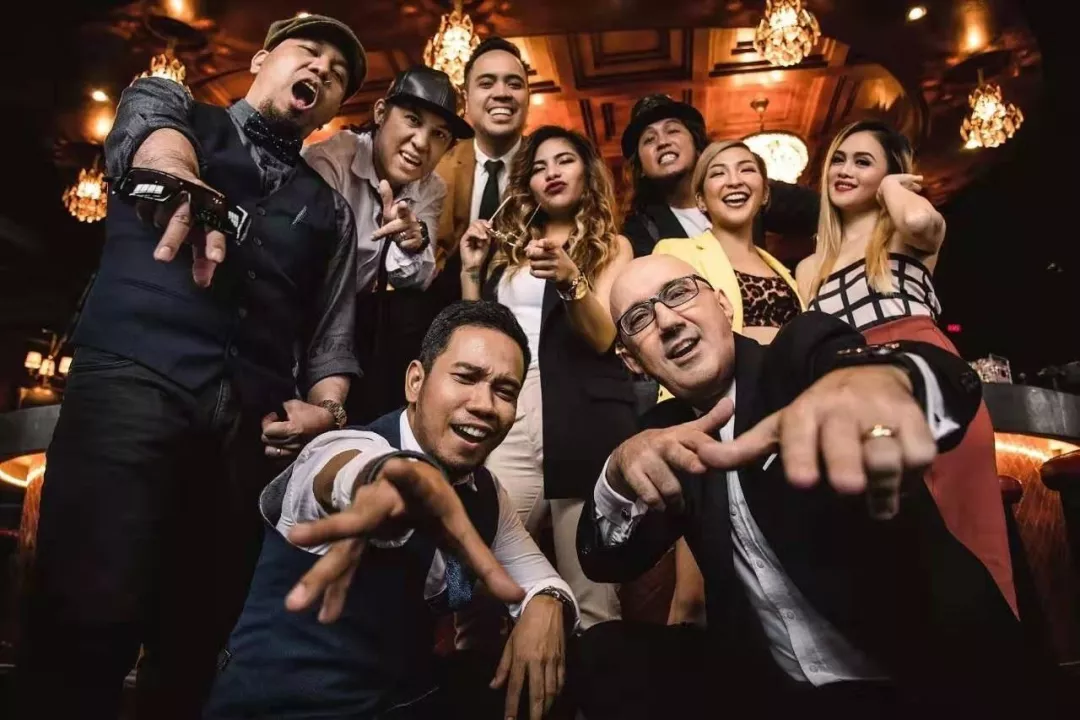 Lucky Draw Prizes
And as if all that weren't enough, we'll also be giving away Lucky Draw Prizes throughout the night! Here are a few of what we've lined up so far:
Passion Party on the Sea courtesy of Shenzhen Hone Ocean Culture Communication Company! You and up to 9 of your friends can enjoy an amazing experience on this luxury sailboat for two hours, right here in Shenzhen (a ¥4000 value)! From the Seven Star Bay Yacht Club see Dalajia Island, Huizhou Daya Bay Nuclear Power Station, and Dongshan Fish Row before returning to the Yacht Club! Details here.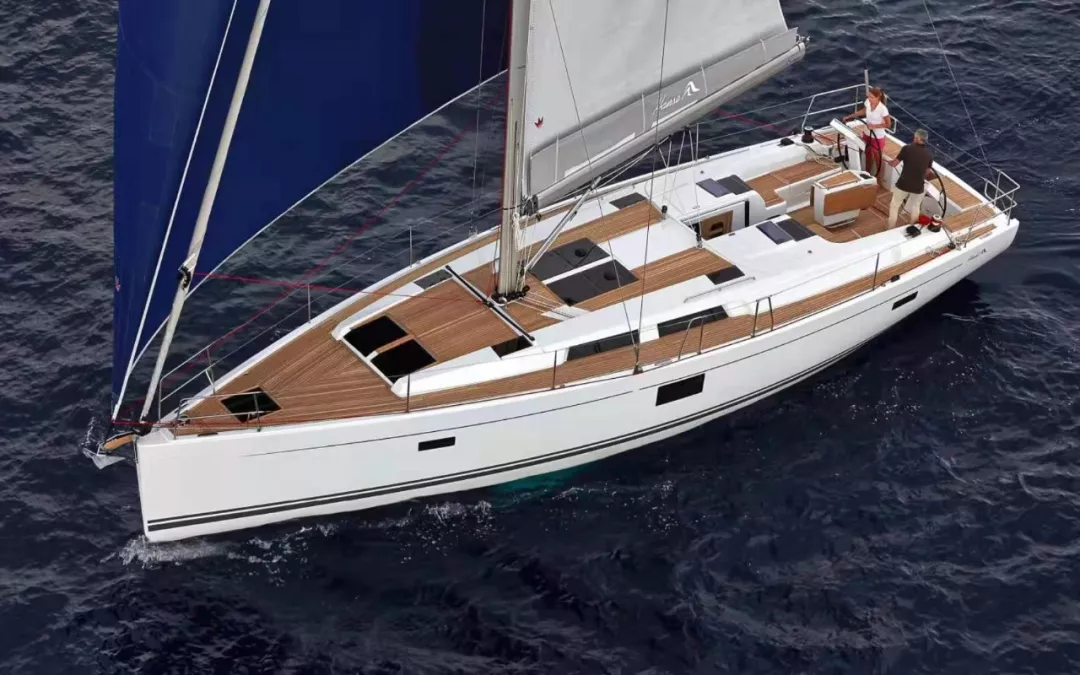 WIN a Keg Party for you and your friends, courtesy of Vedett, at Terrace! One lucky winner will win a free 20 liter keg of beer, courtesy of Vedett, to enjoy with your friends on a later date of your choosing, at Terrace!

June Yoga Studio knows that we're going to need to work out a bit after this party so they've offered TWO (2) one-week FREE Yoga Classes at their studio!
Plus, we will be giving away two (2) One-Month Passes for F45 Fitness
...and three (3) 90-minute Chinese Lessons from 1-on-1 Mandarin
Of course, we'll also be giving away a few of these super Awesome ShekouDaily T-shirts as well!
The After Party
All ticketholding ShekouDaily guests can also enjoy 10% off any food and drinks all night!
After Party Table Booking
ShekouDaily guests can also receive a discount on the tables during the after party, so you have no excuse to not stick around! Spend just 300rmb (normally 500) for a standard table for four people, or 500 for a premium (center stage) table for four people (regularly 800)! Advanced booking is required. Click here to book now.
Don't need a table? No problem, pre-book your 200rmb freeflow drinks ticket and enjoy all the way to midnight (this is extended one extra hour for you from usual end time)! Note: This is for those not sitting at tables.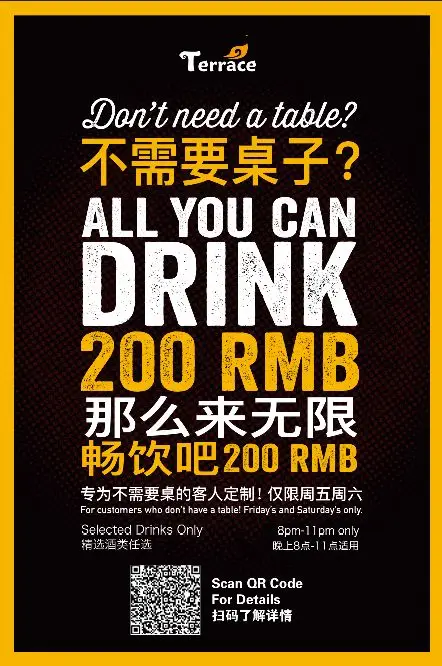 If you can't wait to party at Terrace, you can still enjoy their Mid-Autumn Festival Party on Friday September 13th with 50% OFF second bottle of Makers Mark Whisky Second Bottle and a Special performance by American recording artist Layla Khepri!! Click here for details.
Admission:
This is an open party. That means everyone is welcome whether you buy a ticket for the food and drink options or not. But hey, with these amazing offers, why would you not get a ticket?!?!
Purchase any of the below ticket options and enjoy the freeflow drinks, Thai food buffet, and be entered into the lucky draw for a chance to win the above amazing prizes!
288 RMB at the door;

200 RMB EARLY BIRD* (see below for purchase instructions);

FREE for Shenzhen Teachers who have moved to Shenzhen within the last 90 days* (see below on how to redeem).
BUT WAIT, THERE'S MORE!
The first 50 paying guests will receive a 50rmb gift certificate for use at Terrace, plus a Terrace VIP card; which entitles you to 10% off your bill, and preferred seating!
*How to Get Discounted or FREE Admission?
OPTION 1: Early Bird
Get 88 RMB OFF the price of admission by forwarding this post on your WeChat moments and sending a screenshot of that post in your Moments to ShekouDaily's Official WeChat account (QR Code below) along with your name, telephone number, and email address, before 12 noon Friday September 13th.
OPTION 2: New Teachers
New Teachers (those living in Shenzhen for less than 90 days).... get in FREE! We realize that many of you teachers that are new to Shenzhen may also be new to WeChat so to make this easier, just scan the QR Code below and send us a message with "New Teacher Party" and we'll get you sorted out. Hurry though, these tickets are limited! Deadline: 12 noon Friday September 13th... while supplies last.
Don't know how to scan a qr code on your phone? Just press and hold on the image above until a menu pops up and click the "scan qr code" or "extract qr code" option. Or you can also click "Add Contact" then enter the WeChat ID: SkDaily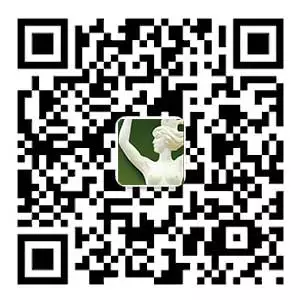 We look forward to seeing you there!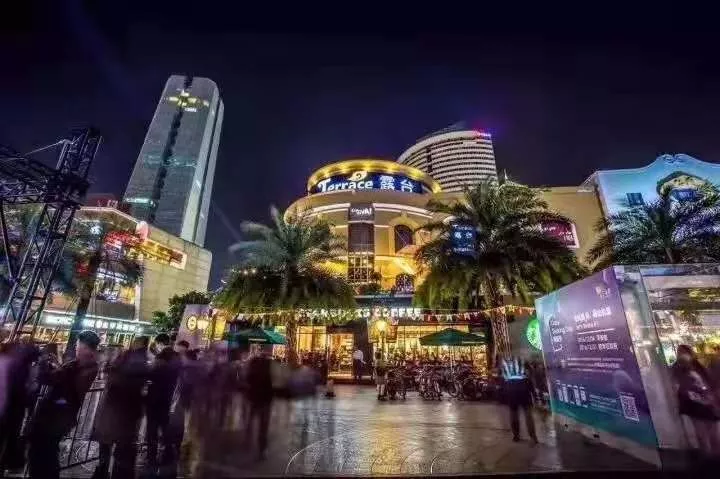 Hi folks, Drew from PaXaN here. This week we tried our hand at making Kirby's Super Spicy Curry, but with a vegan twist. This is a relatively easy recipe to make and several different additions or subtractions to the ingredients list can be made to s
Hi folks, Drew from PaXaN here. With the virus taking hold around the world many of us are going into isolation and spending more time in our homes that we might normally do. Inevitably, things might get a bit boring so we spoke with Jay Maksenuk, a
For the second time in two months, residents of Shenzhen have been snatching up all the chickens at Mister Chicken as they offered insanely low prices during their "CRAZY WEEK" promotion....