Expats React to Slaughter of Panama at Shenzhen British Pub
25 Jun 2018
"Game? Sorry, I haven't stopped pouring drinks long enough to watch it," is what Jacques Peeters, manager at George & Dragon British Pub in the Shekou Sub-District of Shenzhen told us when we asked what he thought of last night's World Cup game between England and Panama.
The venue was packed. To the point where numerous people had to finally leave in hopes of finding another venue to watch the game after long waits for a seat.
Over 100 people attended the viewing; which coincided with George & Dragon's 6 Year Anniversary, where they served their famous Pig-In-The-Box BBQ to hungry guests.
"We're so happy so many friends came to our Anniversary and to watch the game," said Maggie Gan, one of the owners of George & Dragon. "You're always welcome to join us anytime."
The match was a blowout. At 5-0, the game was done by halftime. The final score stood at 6-1.
The last times England came close to scoring this many goals was in its 4-2 victory over Germany in the 1966 final and the 4-4 tie with Belgium in its opening group match in 1954.
The last group match will be this coming Thursday night at 2am between England and Belgium. Hopefully for the fans, this year's England-Belgium fixture will see as many goals as back then.
Despite the onslaught of goals by England, Panama fans finally had something to celebrate when Panama scored its first ever World Cup goal.
When pressed for a comment, George of George & Dragon simply said, "Congratulations to Panama on their first World Cup goal."
With this win England moves on to the Round of 16, leaving fans hopeful for their prospects in the tournament.
With bars and restaurants in this popular Expat enclave of Shenzhen having been told they must close by 2am every day... this fan wonders, if England does by chance make it to the semi-finals (which both take place at 2am), will we even be able to watch them?
George & Dragon British Pub is located at Shop #3, Behind the Taizi Hotel at Sea World, in Shekou, Shenzhen, China. For more info, call 0755.2669.8564.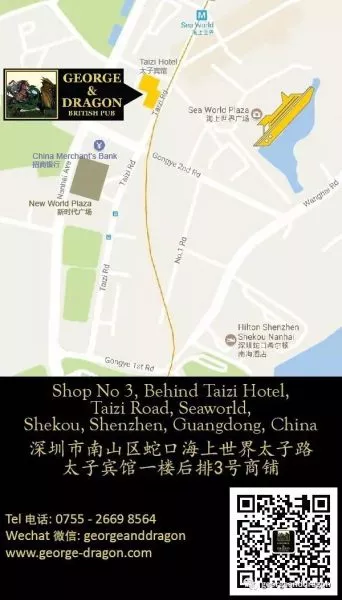 Click here to learn more about George & Dragon British Pub.
One of the most terrifying experiences one can have is being in a tall burning building. Trust me, I've been there myself. Shenzhen has improved its fire safety; however, it's still important for everyone to know what to do in this type of situation.
in Pets, Entertainment
Head on down to the Mission Hills Sport & Eco Park for the inaugural LakeFest event with seven themed zones, spread over 50,000sqm, for a summer carnival, unlike any other.
in Health & Fitness, Food & Drinks, Business in China, Community, Entertainment
Shopping for your favorite brands in China is not easy.