China's Newest & Fastest Way to Travel - 15 mins to HK, 30 to GZ
31 Dec 2019
Be among the first to experience China's newest and fastest way to travel!
Take a helicopter ride to/from Shenzhen and enjoy the shortest travel times yet...
30 minutes to Guangzhou;

20 minutes to Zhuhai; and

15 minutes to Hong Kong!
On December 2nd, the inaugural flight was held from Shenzhen Bay No. 1, at a height of 350m.
China's first inland heliport arrives
According to Guo Dongfeng, the vice chairman of the board of directors of Pengrui Group, Shenzhen Bay No. 1 is the first commercial building in mainland China to obtain an operating permit for an elevated heliport.
You can now enjoy a dedicated airway leading directly to your home, overlooking the full view and landscape of Shenzhen Bay from the air, and enjoy the fun of flying through the bay area.
The first commericial office building heliport to be certified by the Civil Aviation Administration of China.
In November 2018, Shenzhen Bay No. 1 Heliport received a Class B general airport use license, which is the first Class B general airport use license in South Central China and the first general airport use license obtained by a commercial office building in the country.
Market demand is expected to determine the growth of helicopter flights and the development of general aviation in the Bay Area.
Prior to the official launch, Pengrui Group organized a 2-day Shenzhen Bay No. 1 flight experience event, inviting more than 80 guests to travel around Shenzhen Bay aboard the AW139 helicopter that had previously served the British royal family.
(Click the video to watch the test flight experience)
Owners of Shenzhen Bay No. 1 Raffles Apartments enjoy priority.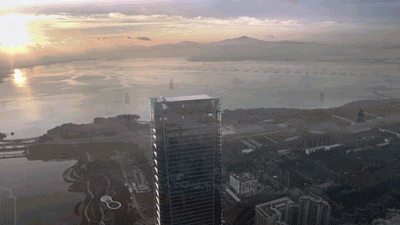 Shenzhen Bay No. 1 was completed in 2019 after ten years of construction. It is now regarded as a landmark building in Shenzhen and part of the new city skyline over Shenzhen Bay.
We spoke with the operators and confirmed that you can enjoy the helicopter trip for as little as 30,000 rmb. Email info@shekoudaily.com if you'd like to book a flight.
Hi folks, Drew from PaXaN here. This week we tried our hand at making Kirby's Super Spicy Curry, but with a vegan twist. This is a relatively easy recipe to make and several different additions or subtractions to the ingredients list can be made to s
Hi folks, Drew from PaXaN here. With the virus taking hold around the world many of us are going into isolation and spending more time in our homes that we might normally do. Inevitably, things might get a bit boring so we spoke with Jay Maksenuk, a
For the second time in two months, residents of Shenzhen have been snatching up all the chickens at Mister Chicken as they offered insanely low prices during their "CRAZY WEEK" promotion....