Traffic Mess as Shenzhen's 20th Bougainvillea Flower Show Blooms
18 Nov 2019
Lotus Hill Park was packed this last weekend as flower enthusiasts visited Shenzhen's 20th Bougainvillea Flower Show.
An estimated 960,000 people have visited the show so far!
Don't worry if you missed it.
There's still time!
The flower show was launched at Lianhua Hill Park on November 8th and will go on until November 27th. It has been open for ten days, with massive crowds visiting on the weekends.
As of 6 p.m., Lotus Hill Park received a total of 180,000 visitors on Sunday. Since the opening of the Flower Show, the total number of people entering the park has exceeded 960,000.
Not only is the park packed, but the transportation lines leading to the park are congested as well.
Metro Passenger Flow
Around 4 pm Sunday, passenger flow control measures were implemented at the Children's Palace subway station due to the crowds visiting the Bougainvillea Flower Show. The 3 outbound gates of the A and B terminals were closed, and the C2 and A2 ports were closed.
The passenger flow soared over the weekend, with the number of people entering and exiting each day hitting 80,000, according to the staff of the Children's Palace Station of Line 3.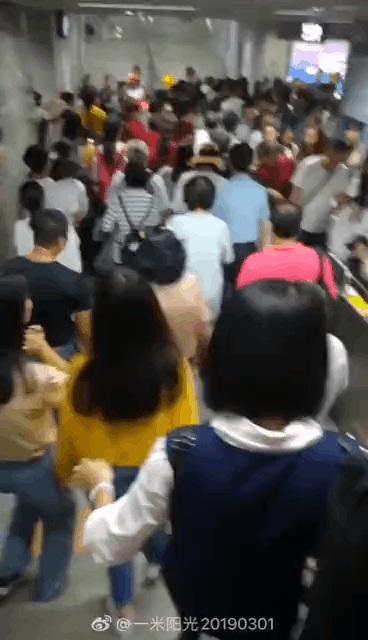 Additional personnel were deployed to deal with the crowds.
The staff said that the highest peak of subway traffic generally occured between 10 am and 12 noon on Saturday and Sunday.
From around noon yesterday, there was heavy traffic congestion around Caitian and Hung Hom in Lianhuashan Park.
Photo from 12:21 p.m. of the vehicles on Hung Hom Road, Cai Tin Road and Sun Chau Road near the scenic spot.
Photo of the east to the west traffic on the Xinzhou junction of Hongqi Road and the surrounding roads of Caitian Road, Huanggang Road and Lianhua Road at 12:54 p.m.
The backup of cars on Hung Hom Road, Choi Tung Road, San Chau Road, Huanggang Road and Lian Lian Road at 4:06 p.m. was attributed to the park having run out of parking spaces.
The show is going on until November 28th so plan accordingly. If you'd like to visit the show, consider going during non-peak times.
Enjoy the flowers!
Source: 18万人次涌入,地铁紧急限流!今天,莲花山公园全是人人人人人
in Health & Fitness, Food & Drinks, Community, People, Sports
POSTPONED! Keep posted for the new date! …. This vibrant community event is a gathering of leading names in Shenzhen and Guangdong wellness, nutrition, beauty and fitness, with 30+ businesses and organizations represented May 29th at Vista-SK. 
in Sports, Entertainment
The largest White Collar Boxing Event ever in China was held last Saturday, December 12th, at Gateway One Commercial Plaza in SeaWorld Shekou, Shenzhen. The Fight, which was the first ever open air public event of its kind, was organized by Miki...